As the pandemic has swept its way across the globe over the last 2 years, the focus we have seen from government and in the media in general has been centred around the effects on people's physical health. The obsession with case numbers, daily hospitalisations, ICU numbers and daily deaths has somewhat masked over the unseen reality taking a toll on people's mental health.
The true impact on mental health will only be realised in the years ahead associated with isolation,bereavement, loss of income and fear that are triggering mental health conditions and exacerbating existing ones. The economic and social disruption caused by the pandemic will be devastating to some for years to come.
Whilst much of the population at times have been advised to work from home if they can, social distance where possible and avoid high risk areas, there is an army of workers doing exactly the opposite to treat and care for us daily. These are our healthcare professionals!
Our healthcare professionals that are being pushed to limit on the front line every day despite being overworked, exhausted, stressed and working in an environment that is usually understaffed. Many have anxiety associated with being more likely to get COVID-19, and the terror of unknowingly passing it on to a vulnerable client or taking it home and passing it on to friends and family.
In some instances, our healthcare professionals were being asked to use their personal leave if they contracted COVID-19 while at work... how does this seem fair? Or being informed that the annual leave that they had approved to spend a few days with their families had been cancelled again. Mentally, these are tough pills to swallow.
As a scenario, just Imagine being asked to free up an ICU bed currently being occupied by an aging acute cancer patient to accommodate a young vaccinated or unvaccinated COVID-19 patient, with a view that the younger patient would have more of a chance of survival? These are some of the grim realities our healthcare professionals face daily!
It is also a common misconception that our health care professionals, especially within mental health are somehow immune to mental health issues such as anxiety, depression, PTSD etc, due to training and the nature of their work. This could not be further from reality.
A recent study led by frontline health care professionals showed post-traumatic stress and other mental health problems are crippling Australia's doctors, nurses, and allied staff, with over 70 per cent reporting they were physically and emotionally exhausted.
In the United Kingdom, as many as 44 per cent of healthcare workers are suffering from COVID-19 related PTSD, a study from the British Journal of Clinical Psychology found.
In another study undertaken by BMJ's Public Health Emergency Collection, over 9000 health professionals surveyed had experienced mild to severe anxiety, with over 50% suffered depression, and of those at least 5% had also developed PTSD.
So, when we see a healthcare professional, with bruises on their face from wearing full PPE for their 12-15 hours shift, looking grumpy and tired, let's stop for a minute and think about what they may also be going through mentally. You'll probably find that the psychical side of their job every day is nowhere near as demanding as the mental side.
Let's be kind and considerate to the people on the front line. To our healthcare professionals, the hidden face of COVID-19, we thank you!
Should you be interested in hearing more about the kind opportunities we have for mental health professionals across Australia please feel free to get in touch with me on 04 7879 8883, email me directly at dean.madigan@charterhousemedical.com or visit our website www.charterhousemedical.com
​
​Referral Bonus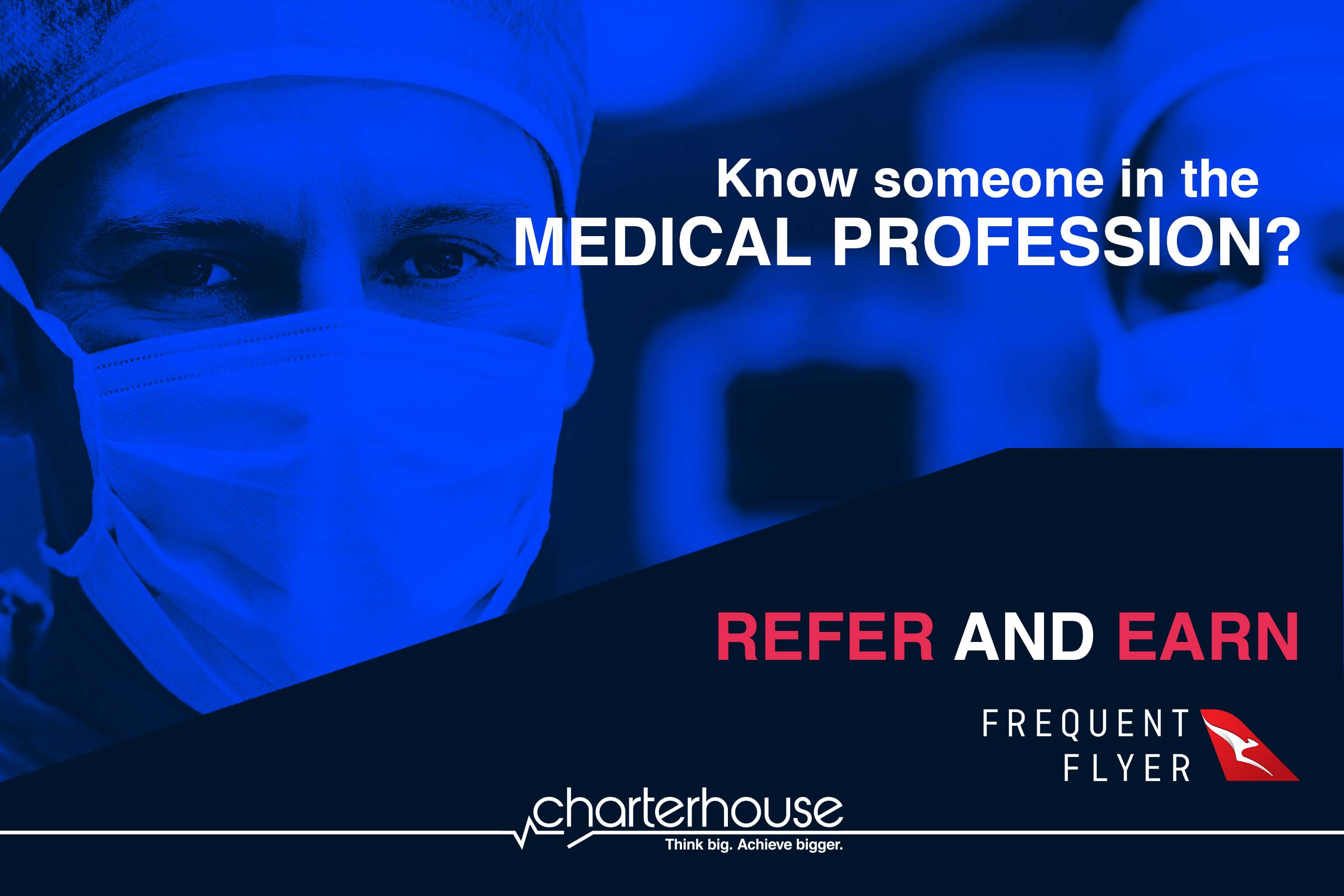 As always, we are offering a referral bonus of $500 for the referral of any locum who undertakes locum work with us, so if you have any friends or colleagues who have expressed an interest in locum work, or would like to find out more about the process we encourage you to put them in contact with us today or ask them to register their interest here​