2021 presented numerous covid-imposed challenges on the locum market in the form of border closures, travel restrictions and snap (and not-so snap) lockdowns.
As we near the end of 2021, and the majority of states race toward their vaccination targets, we have observed a number of states announce that their border restrictions will cease in December and 14 days self-isolation will no longer be a pre-requisite to interstate travel. Meaning many of the challenges we have faced this year, should not prove to be barriers for any doctor looking to locum next year.
Most hospitals plan their locum requirements 4-6 weeks in advance of a new term starting, so whilst many Hospitals and Health Networks will be finalising their plans for November – January, it will not be long until we see hospitals advertise their locum requirements for the first term of 2022, commencing in February. Here at Charterhouse, we are advocates of planning proactively so we can stay ahead of the game and in most cases, secure your first preference of work before they are advertised out to all agencies. This all starts with us getting to understand your preferences.
With all this in mind, the General Medicine team Charterhouse Medical are turning our sights to 2022 and are interested in knowing if you have plans to locum next year?
What are the benefits?
Get paid to travel - With borders opening, and interstate travel becoming more feasible, working as a locum is a fantastic way to travel and work in different parts of Australia with all travel and accommodation costs to be covered for you.

Flexibility is key - Locum work affords flexibility. Many of our existing locums work full-time hours year-round, whilst others prefer to take blocks of 4-6 weeks at a time. Whether you are looking for the stability of a full 13-week term, or you would prefer to undertake shorter blocks there is something for everyone!

Lucrative rates – As a locum, you can earn up to 2-3x what you can earn if working as a contracted or permanent member of staff. With RMO rates ranging from $100-120/hr and Registrar rates ranging from $130 and above, locum work is a perfect source for a cash injection.

Control – The most important thing is that you are in control. Every position you accept is completely at your discretion. Contract length, pay rates and responsibilities will all be clarified and agreed upon before you accept a locum position, so you know exactly what to expect.
Why Charterhouse?
Charterhouse Medical are approved locum providers to all major hospitals and health networks across Australia, so whether you are looking for a metro hub, coastal escape, or a regional retreat, we have got you covered.

We run a weekly payroll cycle, so you do not have to wait until the end of the month to receive your pay – enough said!

Whilst all travel and accommodation costs are covered by the hospital, we have a dedicated travel team who will manage the logistics. They will provide all travel, accommodation and hire car options, so all you have to do is choose which one suits you best.

We have a dedicated compliance team to navigate the differing compliance requirements among all states. They will guide you through the process providing an efficient and streamlined service to take the hassle out of completing paperwork.

Charterhouse Medical is an approved sponsor. We can provide suitable visas so you can work without restriction across Australia, and work with a highly skilled migration agent who will oversee the process from start to finish.

The most important thing is that at Charterhouse, the locum comes first. You will be assigned a dedicated consultant who will take the time to understand your preferences, likes/ dislikes, and career ambitions to ensure we are only presenting you with suitable options that satisfy your needs, wants and drivers. As mentioned above, every position you accept is completely at your discretion. We take it upon ourselves to work with transparency and efficiency to maximise your chances of securing your first-choice option.
If you have any questions about the process, or would like to get an idea of how locum work can fit into your plans for next year you are encouraged to contact Elliott Jacobs (02 9641 5182, elliott@charterhousemedical.com) or Oliver Tenwick (02 9641 2437, otenwick@charterhousemedical.com) for a bespoke assessment and to ask any questions you may have.
Referral Bonus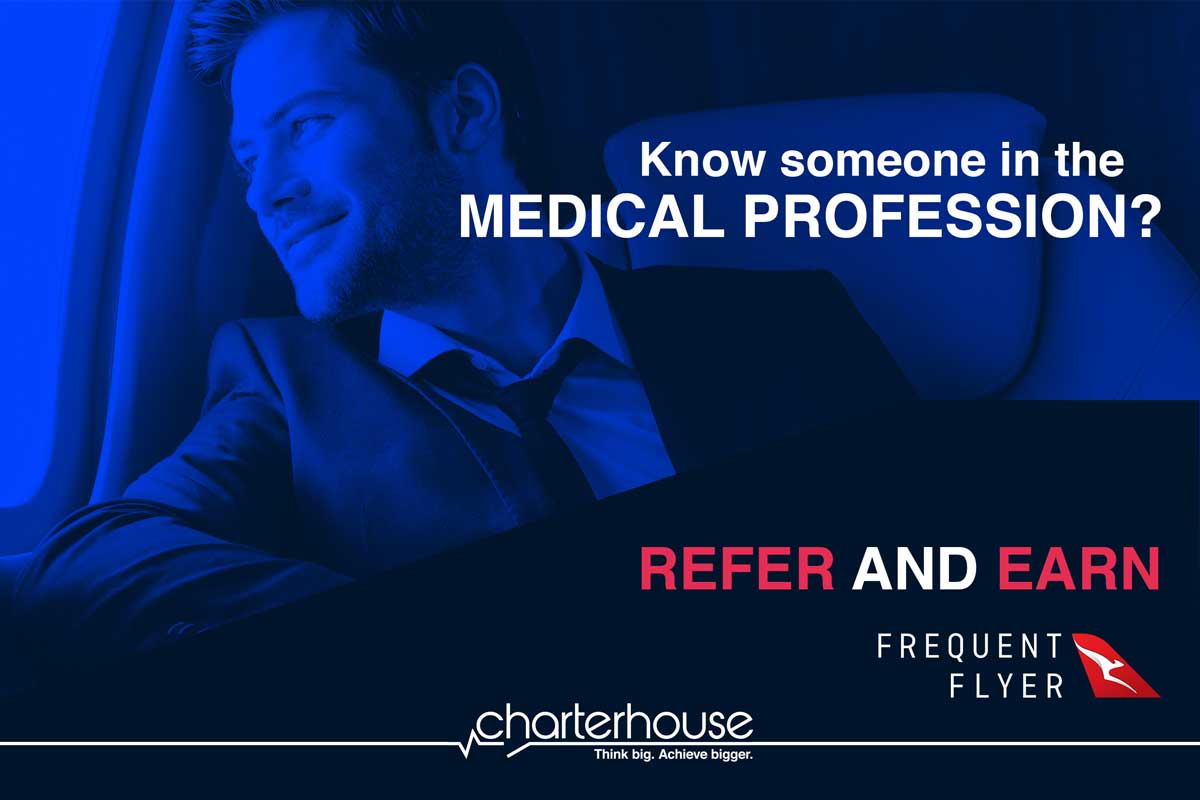 As always, we are offering a referral bonus of $500 for the referral of any locum who undertakes locum work with us, so if you have any friends or colleagues who have expressed an interest in locum work, or would like to find out more about the process we encourage you to put them in contact with us today or ask them to register their interest here​